The Wheelchair Doctor (formerly titled Take My Hands)
The Remarkable Story Of Dr. Mary Verghese
– by Dorothy Clarke Wilson.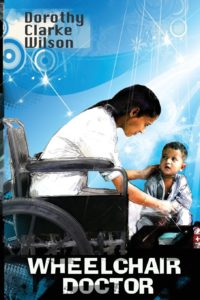 Grace Koshi was studying in the college library when she became  aware of a commotion outside the building. Looking out from the balcony, she saw people running, heard them shouting. The campus driveways came alive with cars, all streaming toward the road leading to the Christian Medical College hospital in Vellore. Finally the excited cries, the relayed exclamations, became intelligible. 
Mary! She thought with foreboding. 
She caught the first bus, already crowded with students, that set off for the hospital. It seemed to crawl along the four miles of winding roads, of congested streets. Arrived at the hospital, Grace rushed to the open gate of the Out-patient Dispensary and forced her way through the crowd and into the building. 
The old OPD was often a busy place, but never had she seen it like this, bustling with so many doctors. Even Dr. Ida was there, moving from patient to patient pressing their hands, murmuring words of encouragement, smoothing back tangled hair, wiping away caked blood,  and all the time bewailing her inadequacy. 
"Qh? If I could only do something to help!" she kept mourning, not realizing that the touch of her hand, the agonized concern scored in her face, were at that moment of as much therapeutic value as any antiseptics, drugs, or bandages. 
When Grace finally found the patient she was looking for, she gasped, "Mary!" she whispered. But, though the girl's head was tossing restlessly from side to side, there was no sign of consciousness.  Grace stared horrified at the gaping wound in the right cheek, the hair soaked with blood. 
"Is she ?" In panic she turned to the senior doctors who were working over her friend. One of them was Dr. Mathai, Mary's brother-in-law, who had only recently joined the Vellore staff.  He was administering transfusions of blood and gelatine.  "We don't know yet," he replied. "I've already asked that word be sent to the family." 
It was Mary who had been most severely injured. Studying the results of her transfusions, the doctors were pessimistic,  "She's not responding properly one of them commented. "Unless her blood pressure comes up, we cannot touch her face." 
Eagerly Grace intervened, remembering that Mary's blood pressure was always inclined to be below the average. With this assurance the doctors finally decided to do primary suture on her face.  They found the right maxillary antram broken in pieces. But luckily  the orbital plate was intact. It was hoped that her eye could be saved. 
Edited Extracts from Take My Hands, The Remarkable Story of Dr Mary Verghese
To try and buy this book, please visit
http://www.amazon.com/Wheelchair-Doctor-Dorothy-Clarke-Wilson/dp/1938659384/ref=sr_1_12?s=books&ie=UTF8&qid=1401014482&sr=1-12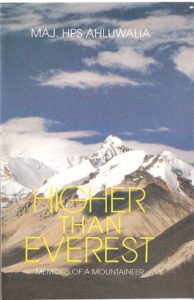 Higher than Everest
– Memoirs of a mountaineer
– by Major HPS Ahluwwalia
Snapshots of thoughts by Major Ahluwalia:
Scaling Mount Everest and setting up ISIC have taught me a powerful truth Life is all about conquering the other summit – the Summit of the Mind.
As I look back at life, it is nothing but power of the mind that matters the most. Each man carries within himself his own mountain, with its own cliffs, crevasses – fearful, sheer, unfathomed, which he must climb to attain a fuller knowledge of himself. The physical act of climbing a mountain has a kinship with the ascent of that inward spiritual mountain which every man has to climb sometime or the other.

My life has been a long journey of extreme ups and downs…of hope and despair and of aspirations and achievements. Every experience has taught me a valuable lesson and helped me shape my philosophy of life.

I attribute the success of our institute to 3 main factors; first of all, the inspiration from Mount Everest to always reach for the highest; secondly, the extraordinary dedication and hard work of our exemplary team of medical specialists and all our staff, who continue to help us maintain the highest standards; and thirdly, the strength and courage I see every day, in the eyes of our patients – some of whom have traveled half way across the world. They are life's real heroes – people who continue to teach us, that there is no such thing as disability. The only barriers are those that exist in the mind.

The teachings of Guru Nanak, a guiding principle, I have based my life on "Mann Neeva, Matt Uchchi…bow down and be humble but allow your thinking to be of the highest order.

Foreword by Late Smt. Indira Gandhi

Although I was born on one of the flattest Plains of the world, I have always regarded myself as a child of the mountains. Not merely because that is where my ancestors belonged, but because I feel more at home there and they seem to fulfill an emotional need, if I may borrow Justice G. D. Khosla's phrase.

It is difficult to pinpoint the reason underlying any emotion. What do I see in the mountains-beauty of landscape, purity of air, solitude or the greater challenge to one's endurance and resourcefulness? Perhaps all these and something more. On the plains one is surrounded by the works of man and consequently full of the importance of human beings. The heights give another perspective-man is but an insignificant speck, dwarfed by the giant forces of nature.

Whatever the reason, I love all mountains. What fun it is to run up and down the hills. How soothing to the eye is the cool green of the higher, forest-clothed ones, heady with scents of pine and a myriad other trees and plants, where one must make one's own path. No less attractive are the many and changing hues of the barren rocked, so stark and strong looking. And, of course, there are the majestic snow-covered peaks, glistening gold and silver in the sunshine or coyly veiled with wisps of cloud. I never cease to be astonished and delighted at the sight of wild flowers in the high mountains, their tiny colorful heads peering out of unlikely nooks and crevices, tenaciously defying the most inhospitable elements.

Major Ahluwalia has the distinction of belonging to a select band of men-the few who have stood atop the highest peak in the world-Mount Everest. He has distinguished himself equally on the field of battle in deference of our country. Courage has many faces. The manner in which Major Ahluwalia faced his long and dreary treatment and convalescence called for the same sort of grit and perseverance.

Major Ahluwalia now shares with us the hardships and the plain, the exhilaration of success and the understandable periods od depression. To his other accomplishments he adds that of authorships. I especially enjoyed his description of the Everest expedition.

Indira Gandhi
In Quest of the Last Victory
– Navin Gulia
On reading the title of my work, 'In Quest of the Last Vic­to­ry', many people asked me, 'Did the quest lead you to victory? And why do you call it the last victory?' To this, my response would be 'Read the story and you will know'.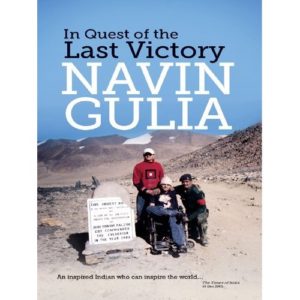 Yes, my quest did lead me to my last victory. 'Last', not because the achievement I talk about in this book would be the last of my success stories but because the victory I am talking about is the ultimate victory, which for most people remains a quest. This is the victory most people strive for, whether consciously or unconsciously. This is the victory over self, the victory over one's limitations.
If you have not achieved victory over self, other victories simply fade into insignificance.
Ever since my childhood I have learnt a lot from the life stories of other people, life stories I came across in real life and life stories I read or heard about. I believe that we gain a lot from the experiences of other people.
I always wanted to lead a life, which offered opportunities to learn something new at every stage and a life I could share with oth­ers. I am fortunate that my wishes have been fulfilled.
I have faced near-death situations more than once. This has taught me to appreciate, cherish, relish and savour every moment of my life.
I have faced losses and failures. This has taught me to under­stand the amount and extent of the efforts that go into every success.
I have faced setbacks that have taken me back to where I began. I never felt discouraged. I saw it as an opportunity to prove myself.
This book is the story of a boy who was perceived as an under-performer but who persevered and, despite every setback in life, went on to fulfill his dreams and be­came a world record holder.
In the pages of this book, I have brought together the experiences of my ordeals. It is also a compilation of the lessons I learnt along the way. It is an effort to share the story of my life, my experiences and the lessons that I learnt with everyone hoping they gain from it.
I am very glad that Pearson Education agreed to publish my book. This has enabled me to share my story with you, to let you know that attaining victory or realizing your potential lies in the strength of your will. Nothing is impossible!
Link to buy the  book
http://www.flipkart.com/quest-last-victory/p/itmduzpceh8guycs