Meet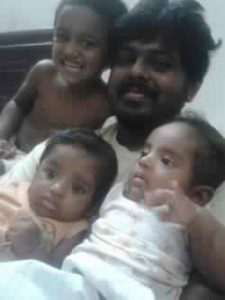 Pravin Paul Kumaresh, a young lawyer, is a very good example of what timely and quality rehabilitation can do for a spinal cord injured person. Hailing from Tuticorin in deep South Tamil Nadu, he met with a road accident.
Within 10 days, he was guided to go to Christian Medical College, Vellore. This made a huge difference even though he was understandably downcast when he reached.
When he reached Rehab, Bagayam, his fitness was also not up there. With support from his therapists, he made fairly good progress. In about six weeks, he was out of Rehab. Importantly, he started thinking about his future, even as he was there.
He decided that going back to Tuticorin may not help career wise or from a family standpoint. He decided to shift with his wife and child to Chennai. He decided to pursue his Masters in Law and enrolled into a day college.
He has also decided to do his bit for the spinal cord injured and has set up Spine N Safe Hands with his doctor friends.
Blessed with twins recently, his three children make sure he has a busy time when he is not at study or work. 
He has also started to volunteer at the Rehab centre in Vellore on a regular basis. He also made a significant contribution to the drafting of the legal documents of The Spinal Foundation as well as helping secure its registration. 
0 98407 47926.
Pravin has also volunteered to help in seeing through road accident cases that result in spinal cord injury. He can be reached at 
Rarely missing a movie, Pravin, fully independent now, has moved ahead in life on multiple fronts though still a bit hesitant toward friends. Yet to finish a year since his injury, Pravin is also an example in the way he has approached rehabilitation and moved on to an active life.