Profile​
The Spinal Foundation is an India Self-Help Group for persons with spinal cord injury.
We have recorded instances of spinal cord injury (SCI) for more than 60 years now. Several small groups / individuals have been working to support persons with SCI in different parts of India. There has, however, been no concerted effort to push for improved quality of life for persons with SCI at a national level.
As an umbrella organization, The Spinal Foundation seeks to combine efforts, be more effective, improve reach, have unified voice for advocacy, share best-practices and address the daunting challenges faced by persons with SCI, especially those who are also economically challenged, and living in rural areas.
The Spinal Foundation aspires to improve quality of rehabilitation and guide persons with spinal cord injury to a healthy life of dignity and improve advocacy.
Living Well with SCI is the motto of The Spinal Foundation. For each person with SCI, this has to be in the face of multiple disabilities such as loss of:
Sensation
Mobility (legs, hands and fingers)
Bladder control
Bowel control
Sexual function
Temperature control
Ease of respiration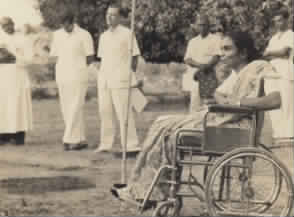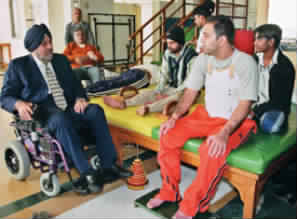 These are accentuated by mishandling after injury, poor rehabilitation, recourse to unscientific treatments, high cost of rehabilitation and post-injury complications such as pressure ulcers, urinary tract infections, loss of vocation / jobs as well as sizeable ongoing medical costs for life
There is no cure for spinal cord injury. It leads to lifelong disability. Conservative estimates suggest that the incidence of spinal injuries would be about 10 per million. An estimated 10,000 fresh cases are added every year.
Appropriate and timely rehabilitation help lead a healthy, successful and productive life. Two exemplary individuals who epitomize this definite possibility are central to The Spinal Foundation.
May 26 has been chosen as the Founding Day for The Spinal Foundation, as it is the birthday of Padma Shri Dr Mary Verghese, an alumnus of Christian Medical College, Vellore, a great doctor, and the visionary who championed India's first specialised center for rehabilitation 50 years ago. She became a paraplegic in a road accident in 1954 and a wheelchair user for life.
The Spinal Foundation is headed by Padma Bhushan Major H P S Ahluwalia, a Mount Everest climber, a hero of 1965 India-Pakistan war in which he sustained a spinal cord injury, founder, Indian Spinal Injuries Centre, Delhi, one of three quality rehab centres in India, adventurist and author of Higher Than Everest among several books.
The Spinal Foundation is registered as a Society. The Governing Board, responsible for the overall management comprises SCI persons from across the country with a deep commitment to the cause.