Major HPS Ahluwalia
Major HPS Ahluwalia is a war hero from the 1965 India-Pakistan war in which he sustained a spinal cord injury. A few months earlier he had scaled Mount Everest. Subsequently, he founded Indian Spinal Injuries Centre in the late 1990s, and is a leading advocate for the SCI community. He is the Patron-in-Chief & the first President of The Spinal Foundation. (New Delhi, 74 years).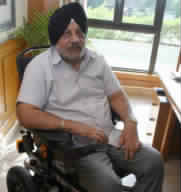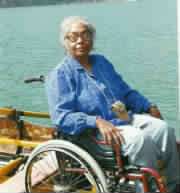 Chandra Rama Rao
Chandra Rama Raofaced a spinal cord injury at a very early age and its attendant challenges, but it did not deter her from pursuing her education and career. A Chartered Accountant by profession, she rose to top-notch positions in her banking job. She has led a vibrant life associating herself with NGOs and is a disability activist. (Uttar Pradesh, 65).
S Vaidynathan
S Vaidyanathan is the co-founder of The Ganga Trust, which supports rehabilitation of physically challenged,Spinal Care India and Running For Ability. He is a Peer Counselor at the Mary Verghese Institute of Rehabilitation, a part of Christian Medical College (CMC), Vellore. Dr Suranjan Bhattacharji, a Gandhian and former Director, CMC, Vellore is his inspiration(Vellore, 48)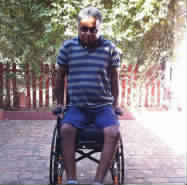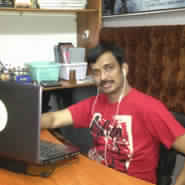 Dilip Patro
Dilip Patro is Founder and President of The Ability People operating out of Andhra Pradesh.His organisation is a robust support for several hundreds of physically challenged persons, especially on the mobility front. Dilip is working on establishing a rehabilitation centre for persons with spinal cord injury and is well connected in government (Andhra Pradesh, 42)
Javed Ahmed Tak
Javed Ahmad Tak has moved on after a bullet injury. He has been active in working for the welfare of needy children as well as persons with spinal cord injury. He also coordinates with local facilities to try and help persons with spinal cord injury go ahead. Javed is also the Founder & Chairman of Humanity Welfare Organization HELPline NGO. A major focus for Javed is advocacy. (Jammu & Kashmir, 40).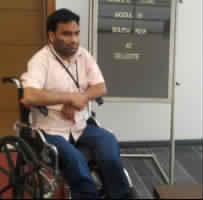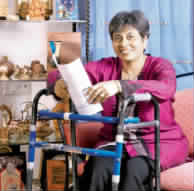 Ketna Mehta
Ketna Mehta is the founder trustee of Nina Foundation, one of the more active organisations working for SCI community. She has established Spinal Injury Awareness Day, publishes One World and focuses on advocacy. She has authored over 50 research papers in the field of Disability Studies and is Editor and Associate Dean, Research at a Management Institute. (Maharashtra, 51).
Komal Kamra
Komal Kamra is an Associate Professor of Zoology at the SGTB Khalsa College, University of Delhi. She is also a Peer Counselor at the Indian Spinal Cord Injury as a volunteer. Komal has been at the forefront of working with the government and regulators. Her clarity of thought and communication skills have helped shape several initiatives. (Delhi, 59)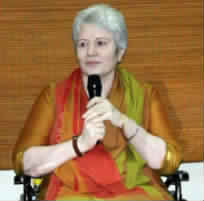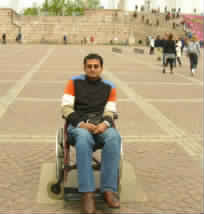 Nitin Goyal
Nitin Goyal works as a senior finance professional in a multi-national company. He has spearheaded the SCI Yahoo email group. He provides outstanding support and guidance to the SCI community as a volunteer peer counselor at ISIC and supports several SCI NGOs. Nitin is very logical and has worked extensively on patient education materials. (Haryana, 41).
Preethi Srinivasan
Preethi Srinivasan should have been captain of the Indian girls cricket team till a cervical level injury cut short her career. Denied admission in colleges, she studied at home. She speaks and writes immaculate English. She works using a voice-operated software. She is founder of Soulfree to especially support women SCI. (Tiruvannamalai, Tamil Nadu, 34).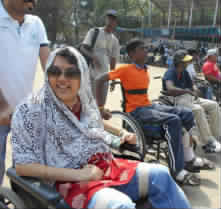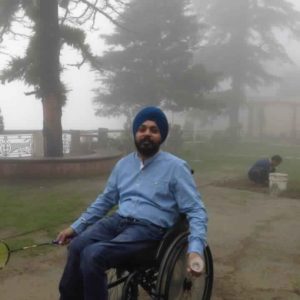 Parvinder Singh
Parvinder Singh has been instrumental in networking for Persons with SCI in Punjab. He is the President of The Spinal Cord Injury Association in Punjab. The ground level work is considered to be an example for others to follow. Home visits by his team have helped identify and rehabilitate SCI. Parvinder will be a key part of networking initiatives. (Punjab, 60).
Salil Chaturvedi
Salil Chaturvedi runs a corporate consultancy outfit. He is active in sports, culture, writing, media work, creative assignments, accessibility and advocacy. A multi-faceted personality, Salil brings wide-ranging skills and experience to the table. He is also associated with a couple of NGOs. Salil believes in leading by example and has embarked on initiatives to inspire the physically challenged. (Goa, 42).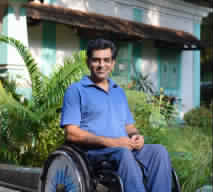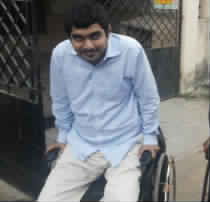 Sashank Vaibhav Allu
Sashank Vaibhav Allu is a tetraplegic who is very independent and all set to do his Master's in Mechanical Engineering from Purdue University. He writes an outstanding blog, quadriplegichronicles, is a thinker and possesses great communication skills. He is involved in supporting newly injured SCI persons. (Andhra Pradesh, 24)
Shika Jain
Shikha Jain sustained a spinal cord injury due to her brave actions in a terror attack. Injured when she was less than 10, she has relentlessly pursued education and is a multiple postgraduate. She works as a teacher in Manipur. Her work extends into Jharkhand as well. Shikha brings insights about the North East. Shikha also understands accessibility issues well. (Manipur, 26).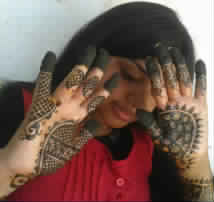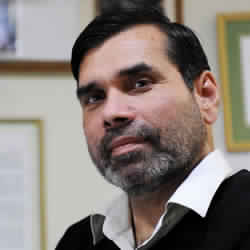 Shivjeet Singh Raghav
Shivjeet Singh Raghav is a Peer Counselor and Patient Educator at Indian Spinal Injuries Centre and President of the Consumer Committee of the Spinal Cord Society. He leads by example through his extremely active life despite severely challenging circumstances. He is widely travelled and brings networking skills with global peer groups. (Haryana, 56)
Sruthi Mohapatra
Sruti Mohapatra's budding civil services  
aspirations were ended by a hostile attitude and
environment in the late 1980s. She went on to
do a PhD. She spearheads Swabhiman, an
advocacy group for physically challenged. She devotes much time    to empowering youngsters for the civil services, an opportunity denied to her. (Orissa, 49)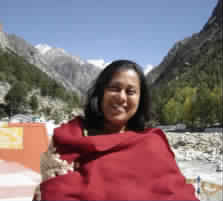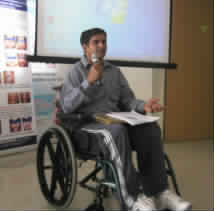 P.Suresh Krishna
P.Suresh Krishna has pushed back the twin challenges of a brain injury and spinal cord injury sustained soon after he reached the U.S and started working. Over the past six years, he has been working extensively at the grassroots level. Through plegia.org, he has enabled rehabilitation of many a spinal cord injured person. (Chennai, Tamil Nadu, 41)